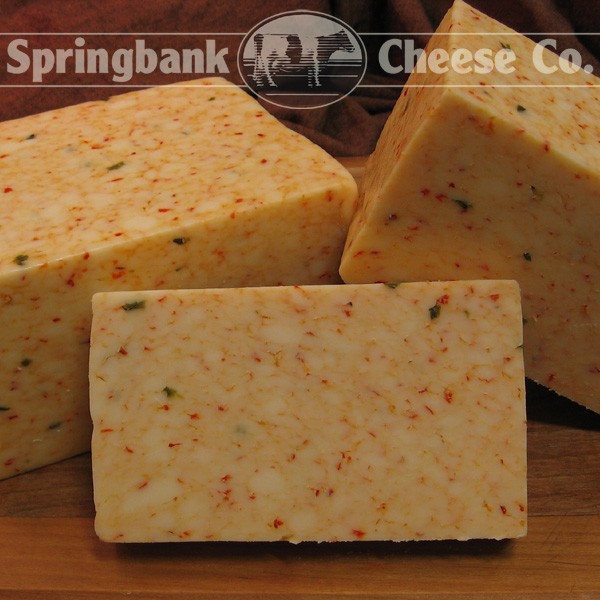 Country of Origin: Canada
Milk-type: Pasteurized Cow's Milk
Tasting Notes: Dried jalapeño pepper, sea salt, lactic acid
The semi-hard, mild-tasting base of this cheese —generously packed with pleasantly pungent, fruity-spicy flakes of dried Jalapeño pepper—is modelled after a similar white cheese originally made by Spanish-speaking friars who settled in Monterey, California during in the mid-1700s.
A vestige of Spanish rule in California, Monterey Jack cheese proudly reflects its Mexican-American heritage, and is popularly flavoured with the addition of the various chili peppers (both green and red) which comprise so integral a part of that region's cuisines. Monterey Jack cheese features prominently in Southwestern cuisine, and many iterations of Mexican-American cuisine, including Tex-Mex. It grates easily, has a mellow, slightly salty and somewhat sweet base flavour, with the fruity piquancy and enticingly hot mouthfeel of dried Jalapeño, and produces a favourable melt. It is often used for topping nachos, melting in quesadillas, enchiladas, or bean and cheese burritos; or as primary component seven-layer dip or chili con queso—to any of which it will add a delectable spicy "kick" and well-rounded, savoury cheesy flavour.
See also our varieties of Monterey Jack flavoured with chili peppers—Monterey Jack with Red Chili Pepper, and Monterey Jack with Habanero and Black Pepper—as well our classic white Monterey Jack cheese, and coloured Monterey Jack cheese.
Suggested Pairings: Merlot, Zinfandel, Cabernet Sauvignon
Similar Cheeses: Oaxaca, Havarti Jalapeño
Display 15 Products per page