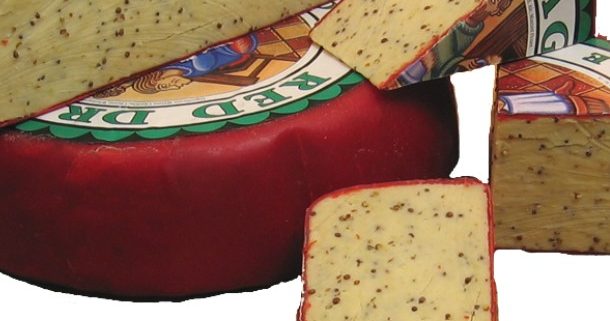 Country of Origin: England
Milk-type: Pasteurized Cow's milk
Red Lion Cheddar is suitable for consumption by vegetarians.
This firm, smooth-textured English Cheddar is infused with a blend of wholegrain mustard and English ale. Buttery, malty, and slightly sweet—the flesh of this Red-wax-wrapped Cheddar packs a pleasant kick. The wholegrain mustard, not too spicy but pleasantly robust and aromatic, lends to this cheese a bold and unique flavour.
Red Lion is especially suitable for cooking, with a smooth melt and a punchy flavour that doesn't get lost amongst other ingredients. Longing for some British comfort foods? Try this cheese melted over beans on toast, or in a modified Welsh Rarebit: you can even save adding the usual dash of Keens mustard, unless you like it extra hot that is! Serve melted on burgers, crumbled in salad, or as part of a Ploughman's lunch with cold sausage, onion, hearty bread, and Branston pickle.
Beverage Pairings: English Brown Ale, a Dry Stout, or a Shiraz
Sizes are approximate – {WEIGHT_POLICY}
Display 15 Products per page