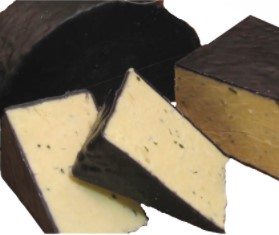 Country of Origin: England
Milk-type: Pasteurized Cow's milk
Cotswold cheese is made with vegetarian rennet.
Cotswold is a variety of Double Gloucester cheese blended with spring onions and chives, and named for the Cotswold limestone deposits which it is said to resemble. Like other Gloucester cheeses, Cotswold has the savoury, slightly tangy character of a Cheddar, with a more buttery mouthfeel, and a firm-but-creamy consistency. Naturally, the rustic, garlicky-sharp aroma, and sour-sweet, spicy flavour of the onions and chives make for a bold addition to this otherwise mellow cheese. Cotswold is an excellent choice for inclusion in a Ploughman's Lunch, or any luncheon of cold meats, especially sausage, with which it pairs well—along with slices of raw mild onion, hearty bread, green salad, apple slices, and savoury pickles or chutneys.
Beverage pairing: serve Cotswold alongside a hoppy English or Indian Pale Ale, or with black tea over a cold luncheon.
Sizes are approximate – {WEIGHT_POLICY}
Display 15 Products per page